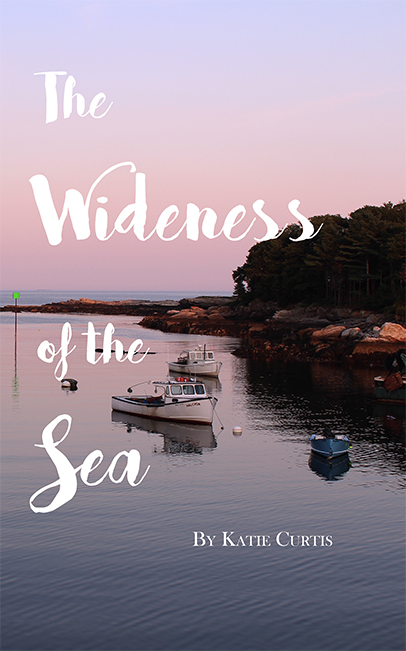 Lots of writers compare publishing a book to a baby being born, and it fits so well since there is a lot of effort and uncertainty, some painful labor, and then, a lot of well wishes.
And like a baby being born, a book deserves a special Birth Announcement, so consider this post it.  Yay! My book is finally here! 
You can order it here at Amazon.
If you are local, there will be a book launch party at RiverRun book store in Portsmouth, NH on July 18, 2017. We will have wine and beer and I will be making a few recipes that are in the book (Red Wine Beef Stew and Lamb Curry).
WHEN: Tuesday July 18, 2017  6:30 PM
WHERE: RiverRun Bookstore, 142 Fleet St, Portsmouth, NH 03801
WHO: Author Katie Curtis (your neighbor at 79 Tidewater) 

WHAT: Book Launch Party for The Wideness of the Sea
I have been blown away by the amount of messages from people saying, "I'm really enjoying your book!" or "I brought it on vacation and can't put it down!" or my favorite, "I will be ignoring my kids for another day because I have to keep reading!" (you know who you are, and I love you for your honesty).  Dreaming of someone reading your book and actually liking it is the fuel of any writer's dreams, and the fact that this dream came true is one of the sweetest experiences I have ever had. For the record, if you plan to read the book or have already, reviews on Amazon are the best way to help any writer whose book you've enjoyed. So feel free to go back to that link from above, and it takes about 2 minutes to leave a review.
So what's next, you might think? Well, I remember hearing Jonathan Franzen say that he liked actually being a writer better then being a writer promoting a book. And while I just feel excitement and enthusiasm promoting this little book, I do agree with him that days spent writing are the best part of the process. So I am trying to continue to be an actual writer, and still put in the same chair time, the same 2-hour daily commitment that got me here, and work on writing the rest of my food memoir. The thrill of touching readers is motivating me so much to finish it (my growing baby belly is too, of course!). It is so fun to try a different genre then fiction, but I realize you get to hide a little more behind fiction. Non-fiction is your heart, out there for the world to judge.  Still, it makes me so happy to think that one day, people might  read what I am working on, and feel touched by it in some way and it totally motivates me to dig deep and do my best work. And in this age of promotion and social media platforms, I am happy to just be old school, and have faith that just writing the best book I can write is enough.
I hope you can join the party and become a reader. So I will be hosting a giving away of the book on Instagram under @katiecurtiswrites. If you are not following me there,
just leave a comment below and I will included you in the random selection.
Thank you to all of you who have been such a great support in this book launch. You are part of the dream, and you are all making it so sweet.
Happy summer reading! xoxo Katie