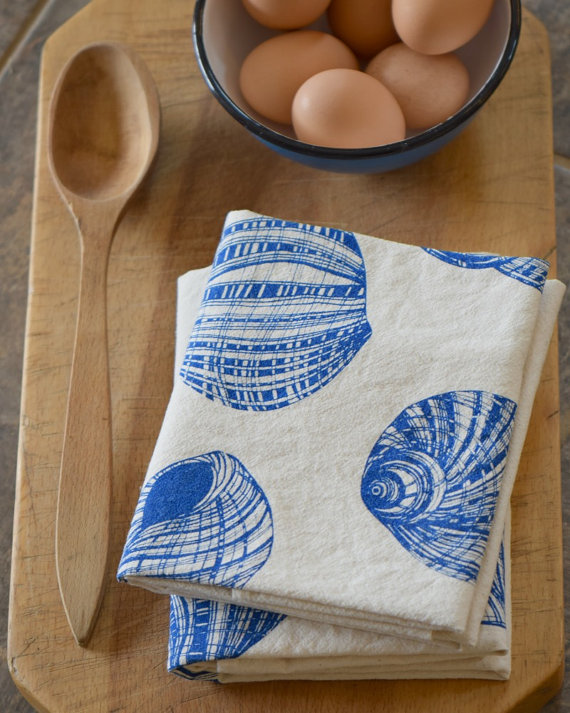 photo from Hearth and Harrow's Etsy shop
Happy Wednesday, lovely neglected blog readers! As I mentioned in my last post, all of my writing time is going to finished my food memoir and I have been really busy with freelance work in Coastal Home Magazine and New Hampshire Magazine, so you can check me out in those publications too. But I love this space and I am loving putting all these interesting little tidbits here!
1)  Just learned about these gorgeous textiles from Hearth and Harrow – so pretty, totally swooning.
2) Modern Mrs. Darcy just posted her summer reading list! I just asked friends on Snapchat for summer reading recs, and the next day I got the email that her popular summer reading post was up. Ask the universe and you shall receive.
3) I have told everyone I know about this podcast, How Seth Goin Manages His Life: Rules, Principles, Obsessions. Popular podcast show host Tim Ferris interviews Seth Goin, who is considered the father of the blog. (He was in business school/think tanks when the internet was born, and his insight into how it has affected us is so interesting.) I love that he starts off talking about cooking and books (two of my very favorite things). The biggest thing I took away from this is that even though there is a lot of 'noise' in our life with the internet and social media, we still need to clear the decks, be alone with our creative spark inside us, and create good content. This is always unquantifiable, since new and innovative is not quantifiable.
4) Have you heard the new Lumineers album? The first single is amazing, and the rest is too. I have it on repeat cooking, cleaning, walking, sitting outside looking at the stars.
5) Buckle up for a short story made long: I had to do laundry at the laundry mat last summer when our washing machine was broken and we were waiting for a repair man (with four kids, this pretty much equals a crisis slightly below the Cuban missile variety). While I was waiting I wandered into the Chinese food store next door. I stocked up on frozen Chinese steam buns and asian vegetables and all the makings for sushi at home. I've been back three times since.
And last week I discovered an Indian food store in Portsmouth. Not only is every thing SO cheap, but I have found the most delicious chutneys, pickled veggies, garlic and ginger starters, curry starters, and spices to make dishes like Biriyani and Vindaloo. It's like a treasure chest. Plus the people who run them are so nice, it is such a pleasure to chat with them and learn from them. Moral of the story? If you have any ethnic food markets near you, make sure you pop in there.  Also, there is a silver lining to washing machines breaking.
6) If you've read any of Anne Lamott's books, you know she always talks about her friend Tom the Jesuit. Well, I found a video of them together, being interviewed by a few Jesuits. Love how they talk about brokenness and reaching our limits and needing God.
7) Guess who I just found on Twitter? My favorite college professor, Peter Kreeft. Ok, not that surprising considering he is a well known writer/philosophy celebrity (is there such a thing?). I was very lucky to take some classes with him at BC, and then I returned there for my Master's in Philosophy. He has a new book that looks like a deep one.
8) I am so inspired by this clip of Melissa Kelly, James Beard award-winning chef of Primo Restaurant in Rockland, ME. I saw her present a few years ago at Harvest on the Harbor in Portland, ME. She made a dish with chicken and Hen of the Woods, and told stories about how her whole restaurant staff comes together for pig day each year. They spend the day slaughtering a pig, then using every part of it, turning it into prosciutto and sausage and cuts of meat the restaurant uses. They end with a huge feast. I just love her philosophy about honoring food.
Plus I got her cookbook signed by her, which is taking popular recipes by 1950's newspaper star Marjorie Standish, which used a lot of convenient, processed foods like canned soup and turned them into recipes that use real ingredients, like a béchamel.) Mind. blown.
9) Don't miss Boden's sale that starts Friday – 30% off! And JCrew Factory is 30% with lots of cute stuff too.
Ok, off to do the homework and dinner shift. Hope you're drinking in these May days! xoxo Katie