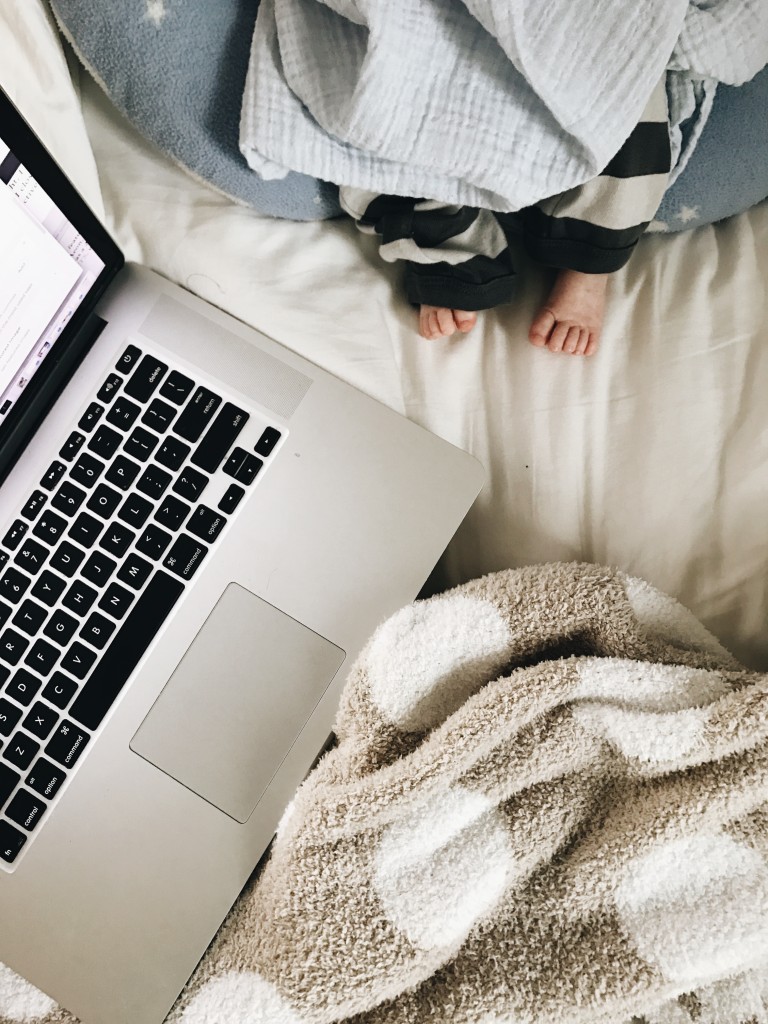 When I found out I was pregnant with twins, one of my friends who has her own pair said to me, 'oh your life just falls into a hole for about a year, that's all.'
Duly noted.
I have to admit, the seasons I have had of motherhood where my kids go to preschool and I write in the mornings have been my favorite. A big warm sweater, a mug of tea, and a morning of words and ideas. My need to write exhausted, and if I am lucky, my need to run exhausted too, I am free to focus on my people, on making dinner, on molding hearts in between soccer practice, the dentist and dinner.
Now I am in the throes of life with newborn twins, and it is vastly different. I love love love babies. All pink, kissable flesh and potent possibility. They are like springtime, totally fresh and filled with blinding light. But to paraphrase the comedian Jim Gaffigan, if you want to know what life with twins is like, imagine you are drowning while holding a baby, and then someone hands you another baby.
When I first started freelance writing for magazines, another writer said to me 'Do NOT become a mommy blogger.' For this reason, I have dodged writing about motherhood directly. I think I also had a hangover from my academic days, and from a low level cultural bias against being a staying home mom, even one who might, say, publish articles and novels. Not going to gain any awards or critical praise from writing about that topic. But recently, I have started to notice the writings that I am most drawn to are essays about motherhood, prose whose insights on the whole rearing of babes leaves me mulling over ideas and words like a butterscotch in my mouth, warm and sweet. In her book, Homing Instincts, the wonderful writer Sarah Menkedick asked why Motherhood hasn't been made more of a subject of serious writing, and then proceeded to make it one in her beautiful collection of essays. My ears, and my itching writing fingers, perked up.
Good writing is, I think, paying attention, recording what you see, and then editing that well and artfully. These are also helpful skills for motherhood. I remember an interview with Ralph and Ricky Lauren's children, and they said that their mother always helped them see themselves clearly. She held up a pair of eyes – her own – through which they could see themselves. So it makes sense to me during this year of rough waters and black holes to bring the two together and write more about motherhood. Maybe they will turn into essays, or even a book of essays. Maybe they will stay just the posts of  a tired mom during her year of having baby twins. Either way, writing makes me a better mom and being a mom makes me a better writer. In both areas, the work changes you, and I think for the better.
There is a constant tension for any writer today about where to write. Online content to gain an audience? Solid essays for submission? Longer, thoughtful works for publication? And all of these are constrained by time. With twins, my writing time will be limited but my notes on my phone about what I want to write about will be long and varied, so perhaps the combination of the two will yield something that resembles consistency here. I also think there are generations of smart, loving, strong women who are becoming mothers and are curious about motherhood, about how this endeavor will change them. Writers have always done a service by shining a light into the dark, and motherhood, for all of its wonder and beauty, has plenty of dark days.
I created this website to be more intentional about writing, talking about books, and helping others who are interested in the craft of writing, so I know many of my posts will be about these things. I am Catholic, and this informs my motherhood and my writing. But I hope to give support and solidarity to any mother or writer or both who reads this blog.
So I'll start with this post – a deep breath for the New Year.
Something about last year – maybe it was the news that one of our babies might have Down syndrome? Maybe it was just a deepening of listening to the voice in my deepest part of myself. Perhaps it was turning 40 – something made me aware of how to live while you pray without ceasing. How it can be just like breathing. The more I prayed, the more I loved. The more I loved, the more I had energy to act, to support, to give, to pour myself out. I am interested in this mystery, this paradox, that as He increases, and I breath Him in, I decrease, and exhale worry, anxiety and frustration. What's left is peace, joy, and hope. I learned last year how a surrendered life is so much easier to live, even if surrendering is hard. I want to learn this year how to harness this better, how to become better at breathing Him in.
I am still stuck on my many short comings and mistakes, days where I am short and I yell and I ask the people I love to forgive me. It is hard to pray when you are worried about your loved ones, when you are sleep deprived. There are many days where resistance wins, and I eat too much sugar and drink too much wine. But then there are the other days where discipline wins. Where I do the things that help all of the people in my house to live the good life. Discipline helps overcomes resistance, since setting a goal means you only have to make the decision once, instead of negotiating and doing battle with resistance every day. So I try to stay disciplined in the things that help me breath.
Things that help me to inhale: good food, good books, good friends, laughter, time to pray.
Things that help me to exhale: exercise, decluttering, letting go, simplifying. Finding the empty spaces – in my home, on the page, in the empty pot on the stove – to fill with clarity, order and creativity.
Taking a deep breath will mean praying. It will mean finding empty spaces. It will mean writing here.
I hope you'll join me on this journey for this year, as I am hunkered down in my hole of having twins. As I try to finish my second book, and write meaningful essays and blog posts in between. As I try to do these things that help me to breath, help me pray without ceasing. To love well. And to make many mistakes in between.